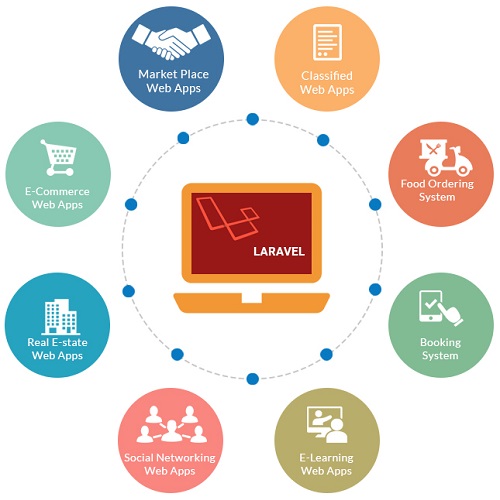 Custom Web Design & Development Services
Developers with profound knowledge in Laravel - PHP framework are ready to empower our clients with the right solution within the specified time frame without compromising the quality. We have experts in the Modular Instinctive Packaging System of Laravel framework to simplify the development process and reduce development time and costs.
Developers use Bundles to develop robust feature applications and leverage BFFs with Backbone to ensure a standard structure for complex coding. We make the best use of Seeds and Migration which are among the most powerful Laravel tools.
E-commerce Development
ITYogisTech is a leading Laravel development company in Singapore and worldwide having developed extensive eCommerce solutions for extended business verticals.
We are a team dedicated to the customization and integration of intelligently designed laravel framework development services to deliver outstanding eCommerce applications.
SaaS Application Development
ITYogisTech is a SaaS application development company with experience and expertise in top-performing Software-as-a-Service applications.
We believe in leveraging the top latest technologies in delivering the said services amongst which Laravel stands apart for web-based applications.
Maintenance and Support
Maintenance and support are important to expand the business by enhancing existing features of the websites. Our unbeaten hosting services will ensure no downtime as we will backup files and databases to the Laravel native cloud file system. Our team will scan the server regularly and install the latest released security patches. We believe in detecting Laravel performance problems in real-time and ensuring the website is updated and smoothly serving its purpose.
Multipurpose Laravel CRM Solutions
Laravel is the most suitable framework to get build enterprise apps and CRM solutions in comparison to other PHP frameworks. Our developers leverage the Model View Controller (MVC) architecture pattern to ensure transparency between logic and presentation. We leverage the architecture for boosting performance, enable better documentation, and taking maximum benefits of various built-in features.
Our expertise in implementing route caching in the development process makes us a suitable choice for enterprise application development. Route caching is an important feature to develop enterprise-level applications that have large numbers of routes. With Laravel's package, we offer the complete set of utilities you will ever need as a CRM / Admin Panel. We cover extensive CMS, and Backend Panel Creation for unique and flexible utilities.
Expert Laravel Developers
Expert level Laravel developers who will develop the website as the future of your online business to reflect your company's brand face. They have high-level familiarity with the latest versions of the Laravel framework and an in-depth understanding of various industry domains. We will help you with a Laravel-based customized website based on business requirements.
Our developers have experience in Laravel ORMs like Eloquent and Doctrine along with the integration of various third-party packages and custom APIs. This will result in the development of an easy-to-maintain solution that could be customized in to furnish future requirements.